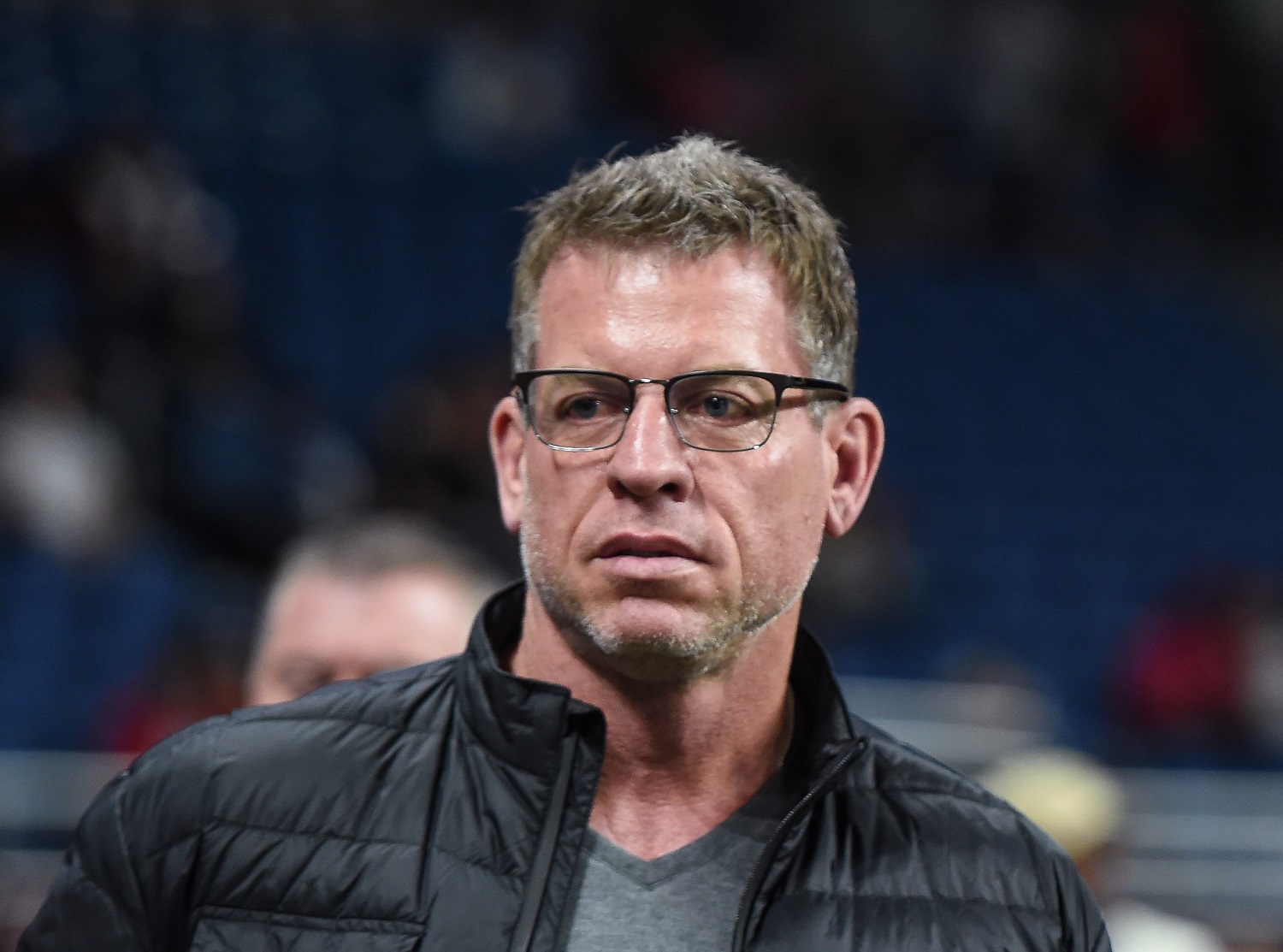 Troy Aikman Sends up a Warning to Fox Sports
Troy Aikman went from the winning quarterback in three Super Bowls with the Dallas Cowboys to a successful announcer at Fox Sports.
Serving as an NFL quarterback for the Dallas Cowboys and broadcasting what is often the most-watched Sunday afternoon football game in the country are two lines that look pretty good on a resume. However, Troy Aikman remains as eager as ever to add a third job title within the sport. He wants to help shape a Super Bowl champion by working in an NFL front office.
Troy Aikman wouldn't be the first NFL great to do it
Star athletes in a variety of sports have a history of mixed results when they attempt to move into coaching. One theory is that their success on the field means spending less time on the sideline to soak in the wisdom of their coaches and learn about strategy and personnel moves during games.
On the other hand, Troy Aikman, Cris Collinsworth, and Tony Romo are examples of retired athletes who have succeeded in broadcasting because they can apply what they experienced on the field to what they're watching from the booth. They can anticipate how a play will unfold just by seeing a receiver go in motion or a safety edge closer to the line of scrimmage.
Front-office positions bear closer resemblance to announcing jobs than they do to coaching positions. General managers and directors of player personnel are putting pieces of a puzzle together, balancing salary caps with finding players who are the right fit for the style of offense or defense.
San Francisco 49ers executive John Lynch who was just elected to the Pro Football Hall of Fame, is one former player who has made the leap to the front office with a degree of success. Reggie McKenzie and John Elway are two others who preceded him.
Now, former Dallas Cowboys great Troy Aikman has reiterated that he wants to be next.
How old is Troy Aikman?
Troy Aikman played 12 seasons at quarterback for the Dallas Cowboys, winning three Super Bowls and earning enshrinement in the Pro Football Hall of Fame in Canton, Ohio, in 2006. He earned a place in the Pro Bowl six consecutive years beginning with the 1991 season, and he was 11-4 in playoff games.
Following his retirement after the 2000 season, Aikman moved quickly into the broadcast booth. Though just 54 years old, Aikman recently concluded his 20th season at Fox Sports, including the last 19 teaming with Joe Buck on the top NFC games each week, which frequently attract the largest audiences on Sunday afternoons.
Still, Aikman is intrigued by the idea of another career change, this time into the front office of an NFL team. Aikman has discussed the idea in past years, but this sounds like his most serious warning yet to Fox Sports to get another color analyst warming up in the bullpen.
"I do think that, 20 years from now, if I look back on my life and if I don't do it, I think I will say, 'Man, I wish I'd given that a shot,'" Aikman said in an interview with Colin Cowherd, Barrett Sports Media reported. "Or 'I wonder if I'd have been any good at that.' I think I'd be really good if I did it. I've never gotten into anything not expecting to be successful."
He could make more by staying at Fox
CBS shocked the sports broadcasting industry in February 2020 by making a pre-emptive strike to keep Tony Romo, another former Dallas Cowboys quarterback, from negotiating with a rival network. The sides agreed to a long-term contract that reportedly pays Romo $17 million a year.
Although Romo's salary is an outlier in the business that no other announcer will approach for years, Troy Aikman makes a comfortable living at a reported $7.5 million. That's a considerable step up from Cris Collinsworth's $4 million at NBC.
The Houston Texans recently lured Nick Caserio away from the New England Patriots to take over as general manager, and the Houston Chronicle reported that his six-year deal averages at least $6 million per season. That probably means he will start at around $5 million in 2021. ESPN's Adam Schefter tweeted that Caserio is likely in the top three for NFL GM pay.
Aikman wouldn't start anywhere close to the top of the salary scale if he accepts a front-office job, and his next round of negotiations with Fox will almost certainly result in a raise.
Like Sportscasting on Facebook. Follow us on Twitter @sportscasting19.