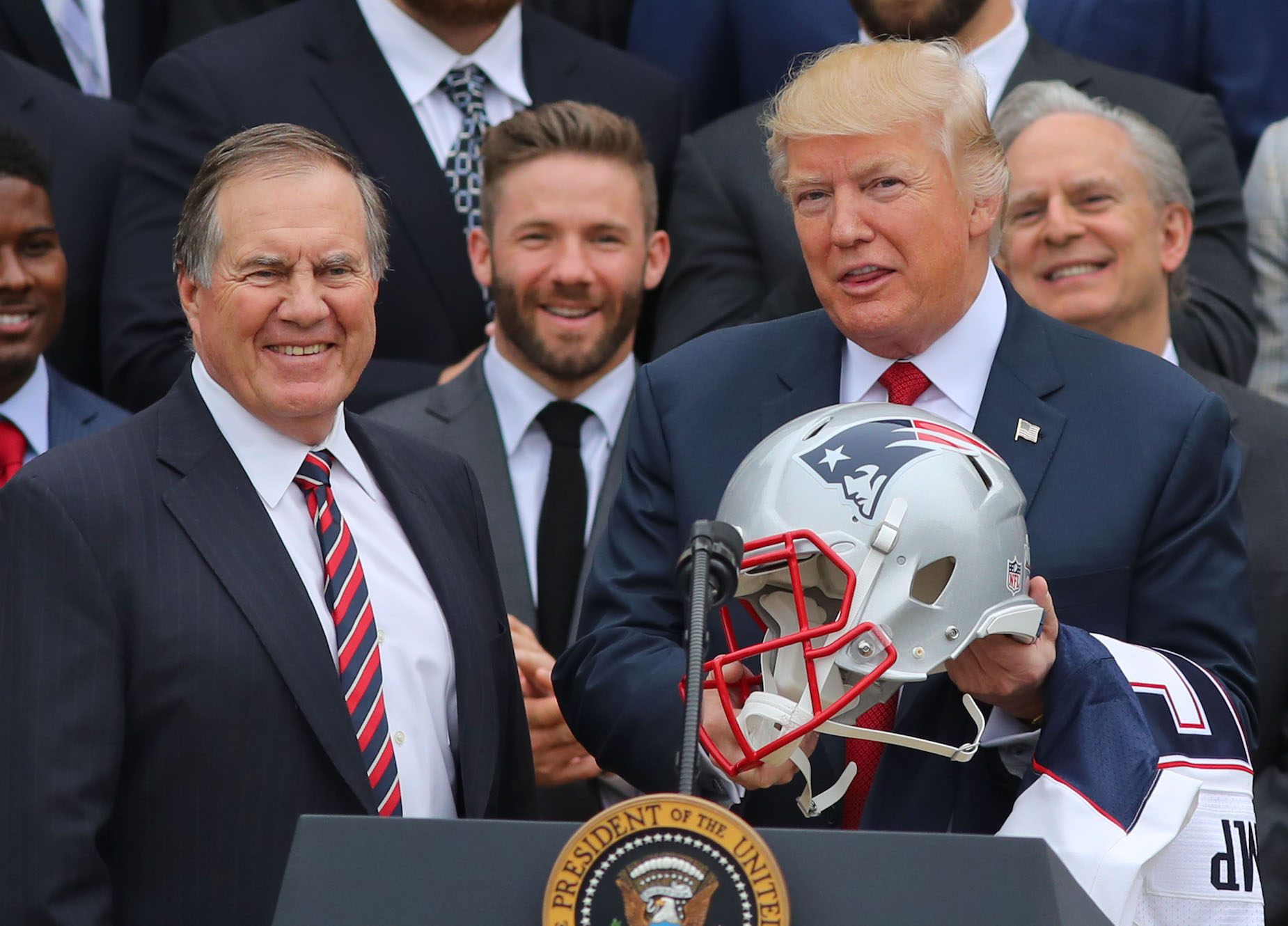 Bill Belichick Could Find Himself Facing a PR Nightmare, Thanks to Donald Trump
While New England Patriots head coach Bill Belichick has won plenty of awards, receiving one from Donald Trump could be a PR nightmare.
While he's hardly the most popular man in professional football, Bill Belichick does have the respect of most NFL fans. During his time in Foxborough, the Patriots' coach has built up one of the best resumes around; when push comes to shove, it's simply tough to argue with his six Super Bowl titles and three Coach of the Year crowns.
According to recent reports, Bill Belichick could have another major award in his future. This one, however, may be a bit less desirable than the rest. In fact, the head coach could soon be facing a public relations nightmare, thanks to Donald Trump.
Bill Belichick has won plenty of awards during his NFL career
These days, it's impossible to imagine the New England Patriots without Bill Belichick prowling the sidelines. The coach, however, hasn't always plied his trade in Foxborough.
After his college career came to an end, Belichick followed his father's footsteps and got into coaching. He joined the Baltimore Colts as an 'apprentice' earning $25 a day; that entry-level gig helped him score jobs with the Detroit Lions and Denver Broncos.
In 1979, Belichick joined the New York Giants as a special teams coach and defensive assistant but, within a matter of years, became the team's defensive coordinator. After two Super Bowl victories, he looked like the next up-and-coming coaching prospect; the Cleveland Browns decided to give him a shot at the top job.
Things in the midwest, however, wouldn't work out; Belichick then spent some more time as an assistant before getting another shot as a head coach with the Patriots. This time, though, things would be different.
In New England, Belichick has built up a resume that would be the envy of any NFL coach. In addition to his 244-92 record, he's also won six Super Bowls, claimed three Coach of the Year titles, and established himself as one of the brightest minds in pro football. Even if you can't stand him, you can't argue with that track record.
Receiving the Presidential Medal of Freedom from Donald Trump
During his time on the gridiron, Bill Belichick has won just about every award imaginable. In the coming days, however, he could add a completely new honor to his trophy case: the Presidential Medal of Freedom.
"On Monday [January 11], Trump plans to award Rep. Jim Jordan (R-Ohio) the highest civilian honor," Meredith McGraw wrote for Politico. "On Tuesday, he plans to visit Alamo, Texas, to visit a section of the U.S.-Mexico border wall. And on Thursday, Trump plans to award New England Patriots head coach Bill Belichick the Presidential Medal of Freedom, according to a White House official."
McGraw also noted that Trump and Belichick do have an existing relationship. While the Patriots didn't visit the White House in 2019, they did meet with the President in 2017. The coach also serves on the President's Council on Sports, Fitness and Nutrition and, during the 2016 election, called Trump a "very good friend."
Donald Trump may have created a PR nightmare for Bill Belichick
Under ordinary circumstances, receiving the Presidential Medal of Freedom would be quite an honor. In 2021, though, nothing is straightforward. If anything, Bill Belichick now finds himself facing something of a PR nightmare.
Should he accept the award, it's likely that Belichick will almost assuredly face criticism for once again tying himself to Trump. Annika Sorenstam and Gary Player, who accepted the Presidential Medal of Freedom earlier in January, can foreshadow the public reaction.
"Sorenstam and Player, widely regarded as paragons of sportsmanship and honor in their game, did not cancel on Trump," Christine Brennan wrote in USA Today. "As representatives of their game, and as business people who benefit greatly from it, their reputations are sullied, forever. Sorenstam and Player now will be attached to Trump at this horrible time in our nation's history, forever. They will be known as the people who had the chance to gracefully suggest another day might be better to celebrate golfers in this nation – golfers, for heaven's sake – and they refused to do so."
Should he decline the award, though, Belichick will also face criticism from the other side of the aisle. Teams and players who declined invitations to the White House have previously been blasted on social media; it's likely that the Patriots coach would meet the same fate.
Bill Belichick now faces a similar situation and potential PR nightmare. At this point, only time will tell which course of action he chooses.
Stats courtesy of Pro-Football-Reference