Bill Belichick Is Already Facing a Major, New Problem in His Hunt for a New Tom Brady
Although the 2021 NFL offseason isn't technically open, Bill Belichick has at least one major item on his to-do list: find a new quarterback. Last season, the New England Patriots embarked on their first campaign without Tom Brady; they, of course, missed the playoffs while TB12 lifted another Lombardi Trophy.
While Bill Belichick has proven to be a football genius, finding a new starter is easier said than done. In fact, the New England Patriots coach could already be facing a major problem in his hunt for a quarterback: the asking price is simply more than he's ready to pay.
Bill Belichick still needs to replace Tom Brady after a full season apart
During their time together in New England, Bill Belichick and Tom Brady seemed like a pretty perfect pairing. After the two men parted ways, though, things quickly went south for the legendary coach.
At first, it appeared that Belichick would begin the 2020 campaign with either Jarrett Stidham or Brian Hoyer under center; then, in a surprise move, he brought in Cam Newton on a one-year contract. While the move seemed pretty savvy at the time—a mobile quarterback would, in theory, give Belichick and Josh McDaniels new options on offense—it never paid off.
In New England, Newton struggled; he only threw for eight touchdowns all season and, at moments, looked completely out of his depth. Belichick's other personnel decisions also came home to roost, leaving the Patriots with a troubling lack of skill players on offense.
For years, Tom Brady papered over the cracks in New England; he was the man on the field who could pull everything together and make the offense greater than the sum of its parts. Unfortunately for Bill Belichick, those cracks became pretty apparent during 2020.
Even Bill Belichick can't out-think a seller's market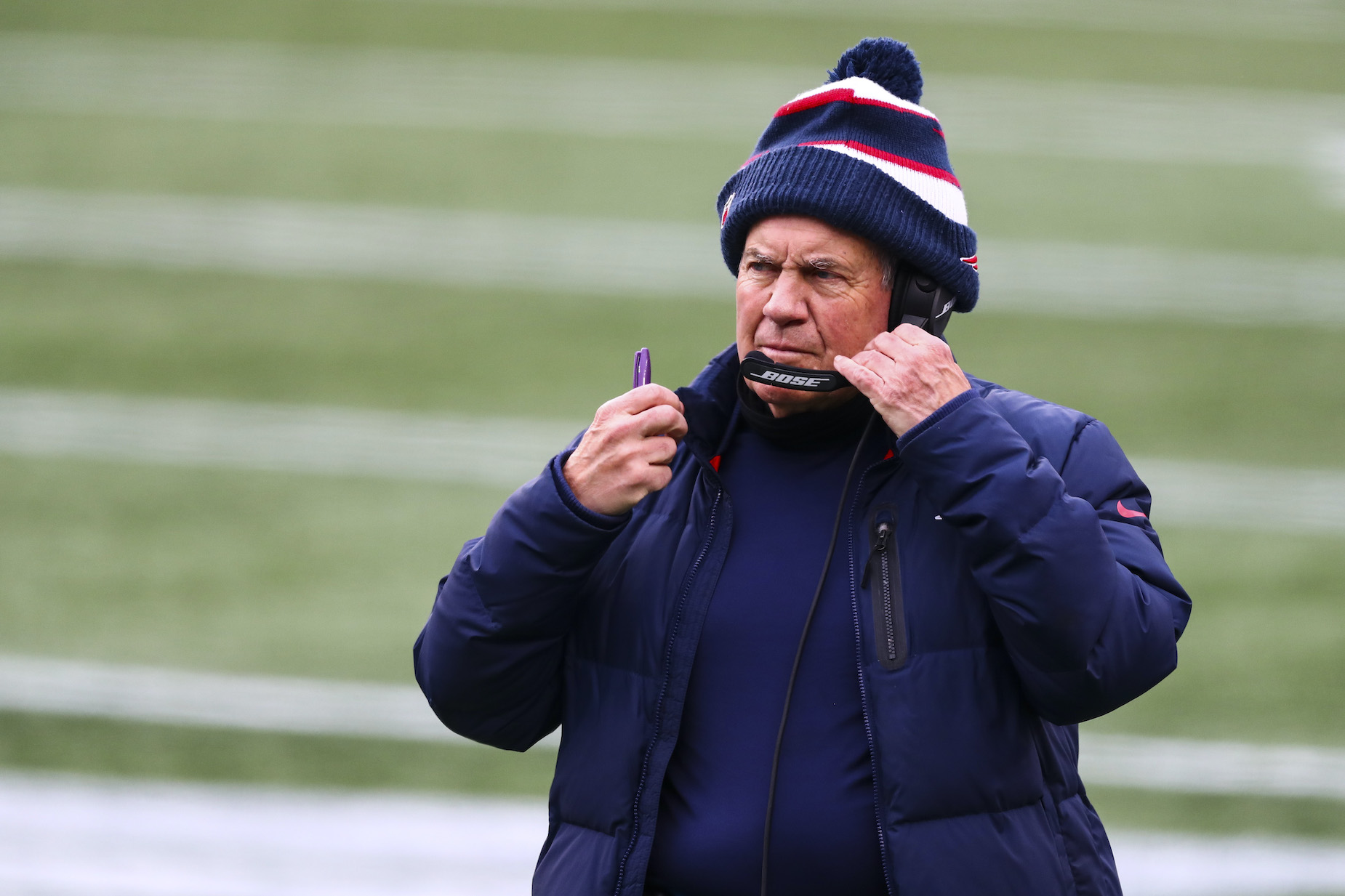 Even if you think that his general managerial skills have slipped in recent years, Bill Belichick certainly knows a thing or two about football. No amount of coaching genius, however, can overcome his current problem: it's simply a seller's market.
As Jeff Howe reported in The Athletic, the Patriots have inquired about "every potential trade target in the league." The team, however, isn't too keen on meeting anyone's asking price.
"The demand outweighs the supply, and teams aren't budging at this stage of the process for a couple of reasons," Howe explained. "First, the trades of Matthew Stafford and Carson Wentz have caused the prices to tilt out of control. … Second, timing remains on the sellers' side. With three weeks until free agency and the official start of the 2021 league year and two months until the draft, teams don't feel obliged to pawn off their veteran assets until a buyer shows desperation."
At some point, the New England Patriots will have to bite the bullet and move one way or another
Given that the NFL offseason hasn't even officially begun, it's understandable that the New England Patriots don't want to break the bank just yet. At some point, though, Bill Belichick will have to make a decision.
Last year, he tried to make do with the easy solution; Cam Newton was cheap, available, and ready to step right into the lineup. In the end, though, he couldn't produce on Sundays.
Since trying to tread water didn't work, Belichick realistically has two options. If he truly believes that the Patriots can still be contenders, then he should go out and target the best available quarterback; while Tom Brady was admittedly a free agent, that's what the Buccaneers did, and it paid off.
On the opposite end of the spectrum, the Patriots could opt for a legitimate rebuild and target a promising quarterback who could, in theory, grow into the next Tom Brady. Whether that means moving up in the draft, hoping Mac Jones falls to the 15th-overall pick, or trying to pluck a prospect from someone else's roster, the short-term pain could be worth it in the long run.
After failing to properly replace Tom Brady in 2020, Bill Belichick now finds himself in an unenviable position. As of now, trying to trade for a quarterback simply seems to be prohibitively expensive. On the opposite side of the coin, opting to rebuild won't be easy, especially after two decades of dominance.
Bill Belichick, however, earns a massive salary to act as both the head coach and general manager. Now it's time for him to prove why he's making the big bucks.