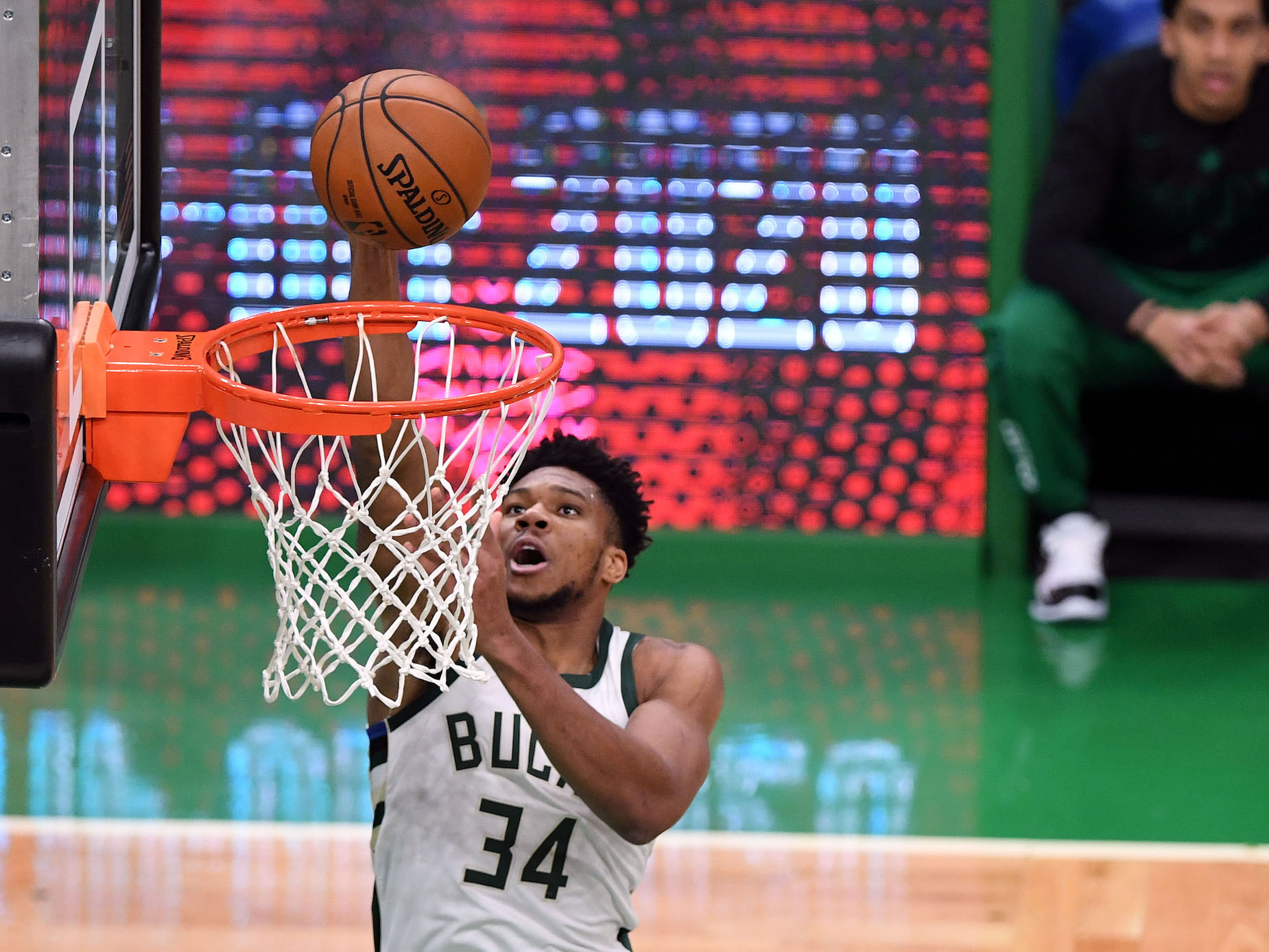 Giannis Antetokounmpo Could Have Lost $25 Million in Salary Through No Fault of His Own
Giannis Antetokounmpo may have signed a massive contract with the Bucks but he could still lose out on $25 million worth of salary.
During his time in the NBA, Giannis Antetokounmpo has established himself as one of the modern game's brightest stars. That reality has, unsurprisingly, made him a pretty rich man. In fact, the Greek Freak just signed a massive super-max extension with the Milwaukee Bucks, earning him at least $228 million over the next five years.
While Giannis Antetokounmpo doesn't have to worry about money anymore, world events can still affect his bottom line. In fact, he could lose as much as $25 million over the course of his contract through no fault of his own.
Giannis Antetokounmpo has developed into one of basketball's biggest names
Purely in a literal sense, Giannis Antetokounmpo's name is pretty massive. That's also true in a figurative sense, though; the Milwaukee Bucks man is one of the top talents in professional basketball.
Giannis, however, wasn't always an international superstar; he grew up in much more humble conditions. As the son of Nigerian immigrants, life in Greece wasn't always easy. The family wasn't rich by any stretch of the imagination, leaving the Antetokounmpo brothers to sell watches and sunglasses on the street to help make ends meet.
The boys loved basketball, though, and Giannis' talent stood out. He joined  the Filathlitikos organization and, in 2013, made the leap to the NBA.
While Antetokounmpo arrived in North America as a lanky teenager, he eventually grew into his body and developed into a legitimate star. Although his game still has a few flaws, the Greek Freak has a unique blend of size and athleticism that perfectly suits modern basketball; if nothing else, it's tough to argue with his back-to-back MVP awards.
Earning big bucks with a super-max extension
Although he didn't have much money growing up, Giannis Antetokounmpo's fortunes are a bit different these days. Thanks to his NBA success, the Greek Freak is probably set for life.
Prior to this season, Antetokounmpo had already earned millions of dollars playing professional basketball. His latest contract, however, will take things to his next level.
In an effort to keep their marquee man in Milwaukee, the Bucks inked Giannis to a super-max contract extension worth $228 million over the next five seasons. While the Greek Freak said his mother played a role in his decision—he apparently asked her about moving away from Wisconsin—a $200 million payday probably didn't hurt matters, either.
Giannis Antetokounmpo could miss out on $228 million due to COVID-19
In isolation, $228 million is already a massive sum of money. Giannis Antetokounmpo, however, could have been even richer, if not for COVID-19.
Since Giannis has already won an MVP award and signed a super-max extension, his salary in 2021 will be 35% of the salary cap; after that, his compensation will increase by 8% for each remaining year of his contract.
Due to the unconventional end of the 2019-20 season, the NBA set this year's salary cap at a pre-determined $109,140,000. The salary cap for 2021-22 is expected to be somewhere between $112 million and $124; given that most teams won't have fans in the stands for the foreseeable future, it's safe to assume that things will remain on the low end of the spectrum.
Unfortunately for Antetokounmpo, the 2021-22 salary cap directly affects his bottom line. As Sam Quinn explained for CBS Sports, Giannis' $228 million salary estimate assumes a $112 million salary cap next season; if the cap next season was the $125 million that Shams Charania reported was projected before the pandemic hit, the Greek Freak's total salary could have almost $254 million.
It is worth noting, though, that we don't know what the 2021-22 NBA salary cap will be; with COVID-19 vaccinations beginning, it's possible to imagine fans returning to arenas around the country. The timeline, however, still remains unclear, and, even in the most optimistic scenarios, it's unlikely that the NBA's financials will return to pre-pandemic levels within the coming year.
By signing his super-max contract, Giannis Antetokounmpo made the city of Milwaukee pretty happy. He also made himself pretty rich, even without the additional $25 million he could have earned.