Michael Jordan's Gambling Past Apparently Included Bowling Against an NFL Legend for $100 a Pin
As we saw during The Last Dance, Michael Jordan was capable of taking virtually anything personally and use it as motivation to win. That desire to be the best wasn't limited to the basketball court, though. His Airness also proved to be a prolific gambler, seizing virtually any opportunity imaginable to assert his dominance and separate his peers from their money.
While many MJ stories involve golf, a new gambling nugget has reached the public. According to Brian Urlacher, he and Jordan headed to the bowling alley on one occasion and played for $100 per pin.
Michael Jordan was known to bet on virtually everything
Thanks to his Nike deal, NBA ownership, and overall celebrity status, His Airness has built up a roughly $1.6 billion net worth. While that bottom line was a bit smaller during his playing days, the former Chicago Bulls star never had any problem reaching into his wallet and betting on just about everything.
While rounds of golf and hands of cards were a given — Jordan was even known to hit the course on a game day — those weren't the only ways MJ gambled. He bet on Jumbotron races, wagered on which bag would hit the airport's baggage carousel first, and put more than a few bucks on games of rock, paper, scissors. And, when possible, he had an inside edge to ensure he came out on top.
Even in retirement, His Airness hasn't toned down his competitive streak. He's made bets with his Charlotte Hornets players and has strict standards for those who want to join him on the golf course or at the card table.
Bowling for $100 per pin with Brian Urlacher
While Brian Urlacher never quite reached Michael Jordan's level of global stardom, he did make quite a name for himself during his time with the Chicago Bears. Thanks to that celebrity status, he was able to spend some time with His Airness on the golf course and in the bowling alley. Unsurprisingly, there was also some gambling involved in those outings.
"I played [golf] with Michael my second year," the linebacker told Cooper Manning on Soup with Coop. "When I was younger, it was like a hundred bucks a nine. Whatever, you lose three, five hundred bucks."
When the pair went bowling, the wagering had to function a bit differently. MJ and Urlacher, however, still found a way to up the stakes.
"We bowled one year for a hundred bucks a pin," the former Chicago Bear continued. "Like 2005 or [2006]. We were bowling for $100 a pin difference. … I did pretty well that day. I bowled like 190 something."
Without knowing exactly how talented His Airness is when it comes to bowling, Urlacher took quite the risk by hitting the lanes that day. If the pair only bowled one game, which a score of 190 would suggest, the maximum deficit could have been 110 pins, had Jordan hypothetically rolled a perfect 300. In that worst-case scenario, the linebacker would have lost $11,000. Even if MJ only won each game by 20 or so pins per game, though, that would work out to $2,000 per 10 frames.
While Urlacher could have afforded that loss, it still would have been a bit more more pricey than simply renting a pair of shoes and buying some curly fries at the snack bar.
His Airness did cut Brian Urlacher a break on the golf course, though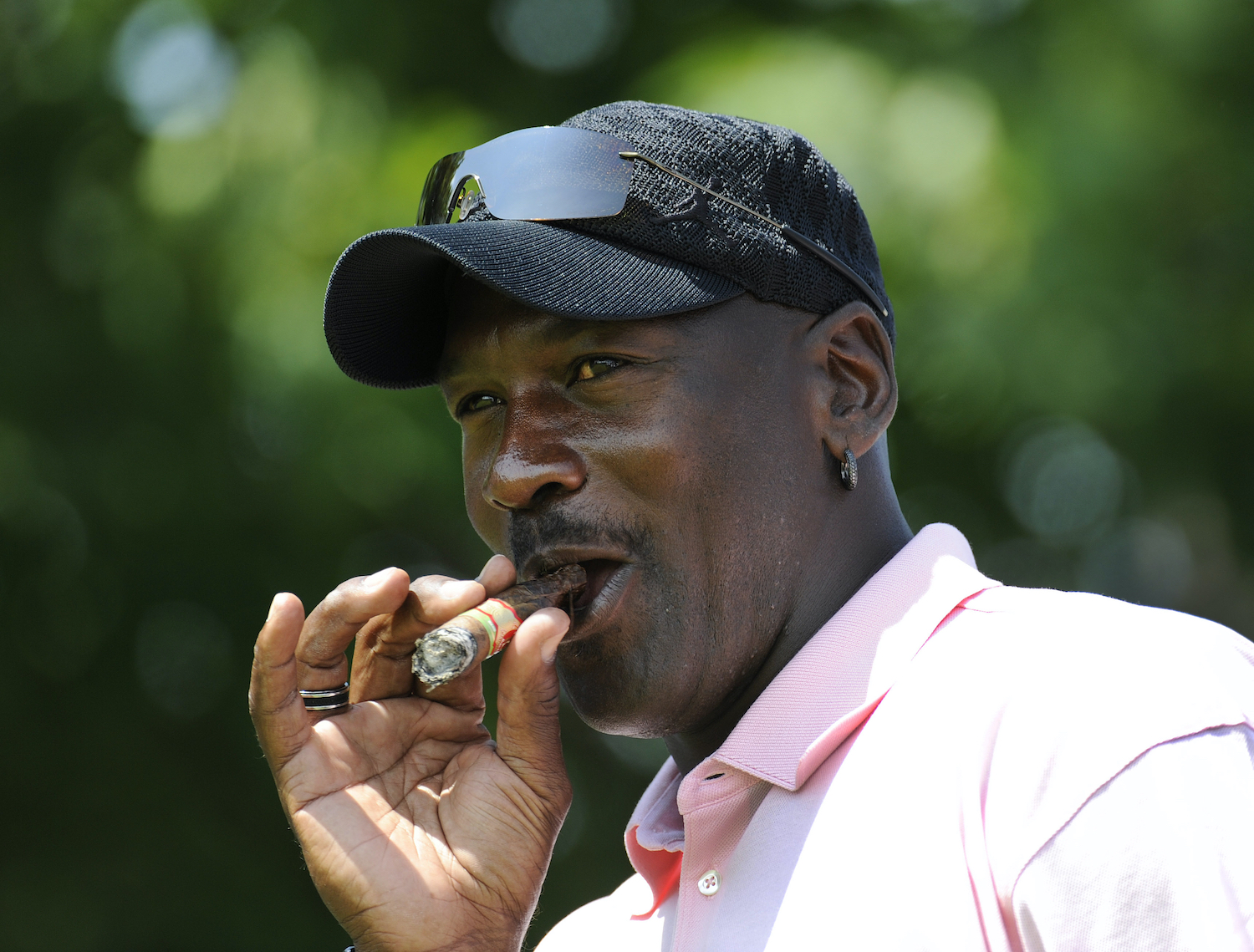 Given everything we know about Jordan, it's safe to assume that he plays for keeps on the golf course. On at least one occasion, though, His Airness did cut Urlacher a break on the links.
Although the Bears linebacker had no problem performing in front of cheering crowds each weekend, his nerves still flared up when he teed off with a living basketball legend. "The first tee, I hit the ball 70 yards straight left," Urlacher explained. "And [Jordan] goes, 'Everyone does that with me on the first tee.' He says, 'I'm gonna give you another one.'"
While that seems like a simple gesture — based on the amount of golf he plays, MJ can probably spare his partners at least one stroke — it still wasn't a given. On the course, Jordan has been known to push the boundaries of common etiquette in pursuit of a win. Just ask Michael Douglas.
"I played a couple of times with Michael Jordan, and I remember being a fool once and accepting one of his bets on a putt," Douglas told Chris Nashawaty of Golf.com. "He wanted to make it some crazy amount — in the thousands. I'm not a big gambler. I lined up the putt, and, over and over, Jordan starts ripping the Velcro on his golf glove. I was like, 'What are you doing?!' And he goes, 'Look, man. If I can make a free throw with 20,000 people screaming at me, you can make a putt with me making a little noise.'"
Say what you will about his competitive ways, but going head-to-head with His Airness is anything but forgettable.