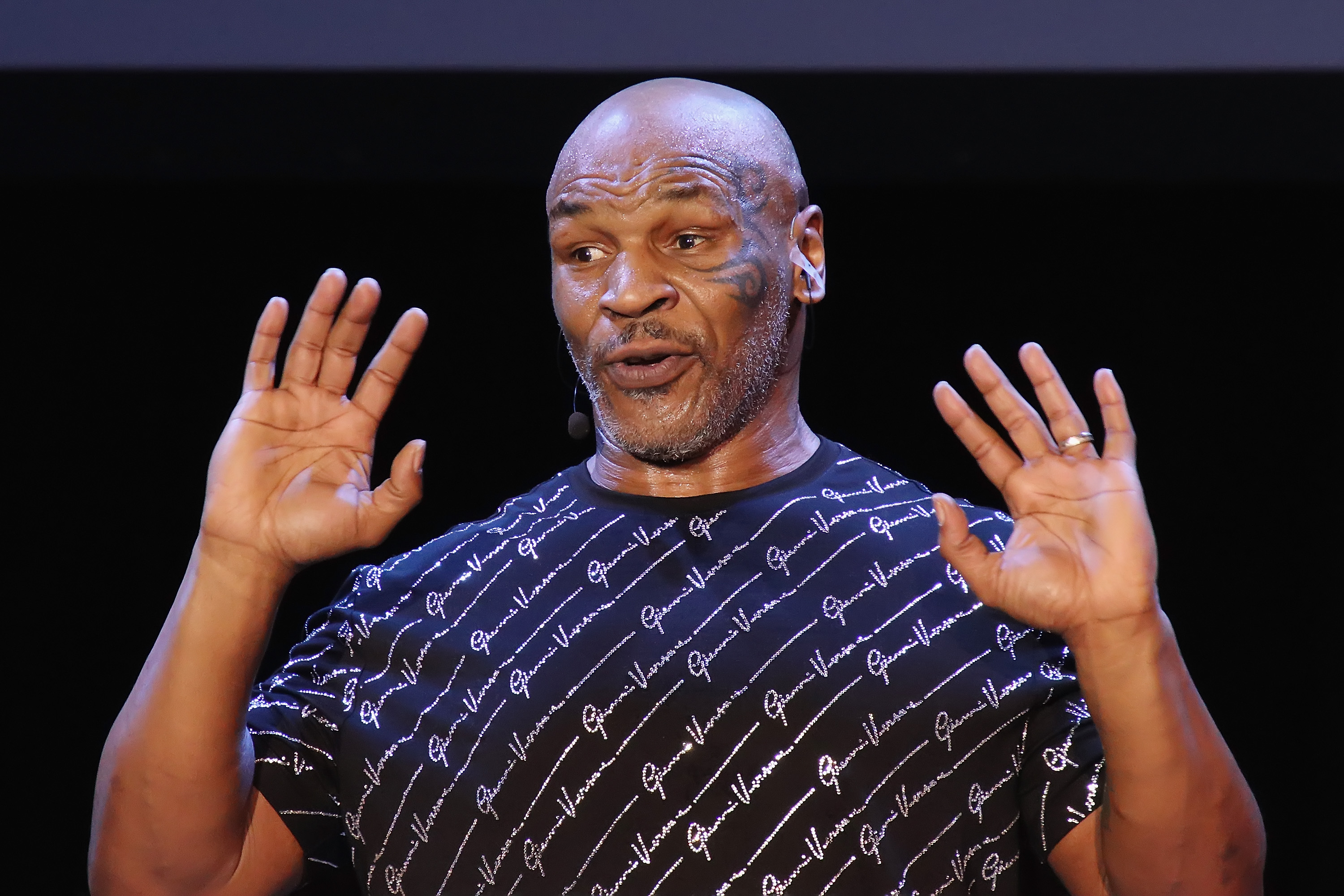 Mike Tyson's Comeback Is a Case of 'Temporary Insanity,' According to a Former Heavyweight Champ
We're getting closer and closer to Mike Tyson's comeback fight against Roy Jones Jr. Stepping into the ring, however, could be 'temporary insanity' talking.
Whether you love him or think he should just go away, just about everyone is familiar with Mike Tyson. During his time in the boxing ring, Kid Dynamite grew into one of the most fearsome fighters around; once at the top of the sports world, though, he collapsed in dramatic fashion. These days, he's more of a pop-cultural figure than anything else, appearing in movies, hosting podcasts, and doing just about anything else you can imagine.
Mike Tyson, the boxer, is about to make a temporary comeback, though. While Iron Mike is scheduled to step into the ring against Roy Jones Jr., not everyone is sold on the exhibition bout. In fact, one former heavyweight champ believes that Tyson is experiencing some delusions of grandeur.
Mike Tyson was once boxing's biggest and baddest star
If you're on the younger side of the spectrum, you probably know Mike Tyson more from his media appearances than anything else. Those who saw him fight, however, know how great Iron Mike truly was.
Tyson grew up in Brooklyn and got into his first fight after a bully killed one of his beloved pigeons. He didn't learn to box, though, until a spell at the Tyron School for Boys; there, he crossed paths with 'Irish' Bobby Stewart, a boxer turned counselor, and learned the sweet science.
Stuart eventually introduced Tyson to Cus D'Amato. The legendary trainer identified Iron Mike's talent and raw strength but realized that he needed a bit more defensive steel; the peek-a-boo technique solved that problem, and, before long, Tyson was dominating the competition.
Tyson turned pro at age 18 and, within a matter of years, became boxing's youngest heavyweight champion. While his career would eventually collapse in dramatic fashion, few men had the talent and ability to terrorize any opponent of prime Mike Tyson.
Mounting a comeback against Roy Jones Jr.
Even if he's past his prime, Mike Tyson isn't ready to say goodbye to boxing just yet. In fact, Iron Mike is about to hit the ring in a comeback bout.
Earlier in 2020, Tyson started talking about a potential return to boxing; before, long videos of him working out started hitting social media. While some unique offers—ranging from MMA to bare-knuckle boxing—came rolling in, he and Roy Jones Jr. agreed to reunite in an exhibition match.
After a scheduling change to maximize revenue, the two men are set to take the ring on November 28; boxing purists, however, might not be happy with what they see. Since the fight is officially an exhibition, there will be no formal winner; after eight, two-minute rounds, both men will reportedly receiver a belt and go on their way with a nice paycheck.
George Foreman suspects that Mike Tyson's comeback is motivated by some 'temporary insanity'
During his boxing career, George Foreman had two separate comebacks, reclaiming his heavyweight title during the latter. Despite that success, he's not sure if Mike Tyson should be returning to the ring.
According to Kevin Iole of Yahoo Sports, Foreman isn't quite sure why Tyson is mounting a comeback; with that being said, though, he does have a suspicion of what's at play.
"It's temporary insanity," Foreman laughed. "I liken it to a guy who wants to get on a boat and go out to sea. It seems like so much fun, so peaceful, so he wants to get out there and do it. Then he gets out there and the big waves start coming and the sea is rough and it's raining and the wind is blowing and he asks himself, 'Lord, why did I ever do this?"
As Foreman knows from experience, it's easy to remember the best moments of your past. Repeating those successes in the present, however, is easier said than done.
"It's happened to so many of us. And you realize you should have stayed home on the dry land where everything is nice and safe," Foreman continued. "The thing that is hard when you start to think of coming back, you remember what you could do back in the day. But you have to reclaim that hardness you once had and the timing. That's what you lose after so many years away and it's so hard to get back."
Is George Foreman right about the perils of a comeback? Does Mike Tyson have the raw talent to shake off more than a decade of rust? We'll get all the answers on November 28.