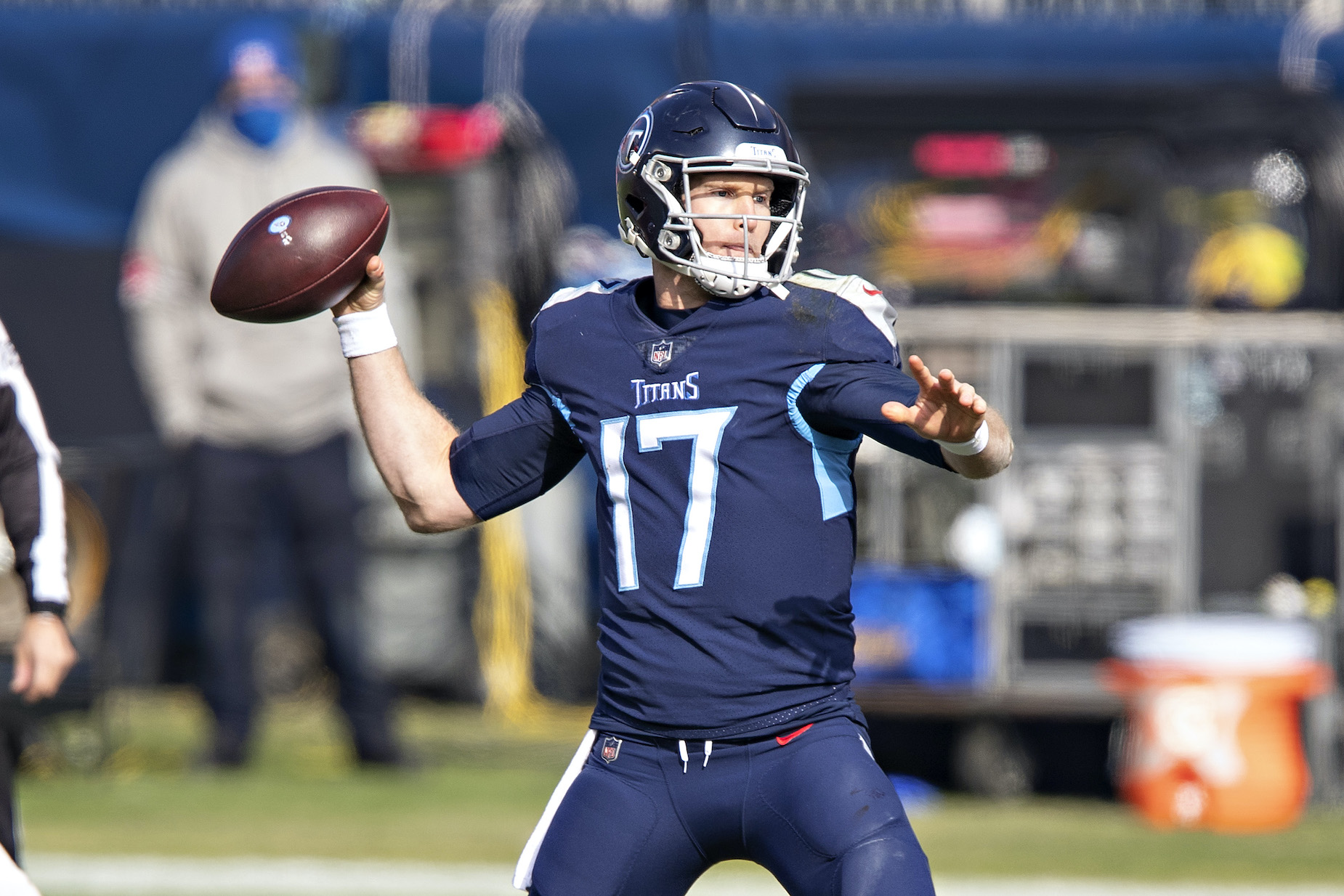 Ryan Tannehill and the Tennessee Titans Capped Off a Fantastic Few Days With a $15 Million Win-Win Move
Days after trading for Julio Jones, the Tennessee Titans completed another win-win move with quarterback Ryan Tannehill.
With all due respect to the Tennessee Titans, it's usually tough for them to make national headlines. Trading for Julio Jones, however, proved to be more than enough to capture the football world's attention. While it remains to be seen if that move will pay off, it certainly came across as a statement of intent in the AFC. The club's business wasn't done there, though. Just quarterback Ryan Tannehill.
On Tuesday, June 8, news broke that the Titans were restructuring Tannehill's contract in order to complete the Jones trade. In a rare turn of events — there's usually a downside to every deal — that situation looks like a win-win for everyone involved.
Ryan Tannehill and the Tennessee Titans have a new weapon in Julio Jones
Ever since the 2021 NFL draft, Aaron Rodgers has monopolized the offseason drama. Julio Jones, however, wanted out of Atlanta and has since gotten his wish.
Without relitigating the entire situation, salary cap concerns forced the Falcons to consider a trade. The receiver also did his part to grease the wheels, appearing on FS1's Undisputed and saying that he was "outta there [Atlanta]." Word also reached the public that Jones had dual desires to join a contender and play alongside a quarterback capable of throwing a deep ball for him to run under.
On Sunday, June 6, he got his wish. The Falcons agreed to a deal to send their star receiver to the Titans in exchange for two draft picks.
From the Titans' perspective, the move comes with an obvious upside. The club already boasts two legitimate offensive weapons in the form of Derrick Henry and A.J. Brown. Adding Jones to the mix will only make Tannehill's life even easier. With a big-time running back and two star receivers, he should have at least one clean look on virtually every snap.
Ryan Tannehill scored another win with a win-win contract restructure
If there was a potential drawback to acquiring Jones, it's that the receiver carries a sizable $15.3 million cap hit for the 2021 campaign. The Titans and Tannehill have since addressed that problem in a win-win situation.
As tweeted by Ian Rapoport, the Titans have restructured their quarterback's contract to save $15 million. While the first benefit is obvious — the move allows Tennessee to afford Jones, giving Tannehill a new toy for the upcoming season — it also comes with an extra bonus.
For those who aren't up on the intricacies of NFL contracts, a simple restructure converts guaranteed salary into signing bonus money. While that cash is spread across the remainder of the player's contract for salary cap purposes, signing bonuses are usually paid in a lump sum. In essence, the next time Tannehill gets a check from the Titans, it will come with an extra $15 million tacked on.
In fairness, that sum was always due to Tannehill; even in the NFL, where contracts are seemingly written on tissue paper and can be torn up in the blink of an eye, guaranteed money is safe. With that being said, though, no one has ever complained about receiving a multimillion-dollar lump payment, especially as part of a deal to make your own life easier.
Adding Julio Jones could pay big dividends for the Tennessee Titans
During the doldrums of the NFL offseason, it's easy for optimistic fans to seize any personnel move as the key to a potential Super Bowl run. The Titans' acquisition of Jones, however, could legitimately be a game-changer.
As noted above, Tennessee already has a capable offense. While the modern NFL doesn't care much for star running backs, Derrick Henry is a dominant throwback to an earlier era. On the receiving front, A.J. Brown hasn't missed a beat during his first two professional seasons. Tannehill knits everything together under center; he might not have the name recognition of a Tom Brady or Aaron Rodgers, but he's been more than solid for the Titans and is quietly capable of throwing a quality deep ball.
Adding Jones to the mix should only help the unit. The best NFL offenses have a variety of weapons and force the defense to make choices. If the opposition stacks the box against the run, Jones or Brown should have no trouble getting open; conversely, it's a fool's errand to try to double team two different receivers, especially with a massive running back on standby.
Although the AFC is stacked with talented teams, the oddsmakers have noticed Tennessee's offensive strengths. After adding Jones to the mix, their Super Bowl odds leaped skyward; they're now tied for the fifth-favorite to claim the conference title.
Only time will tell if the acquisition of Jones will turn Tannehill and his Titans into legitimate Super Bowl contenders. If nothing else, though, the quarterback probably won't complain about $15 million coming his way in one lump sum.