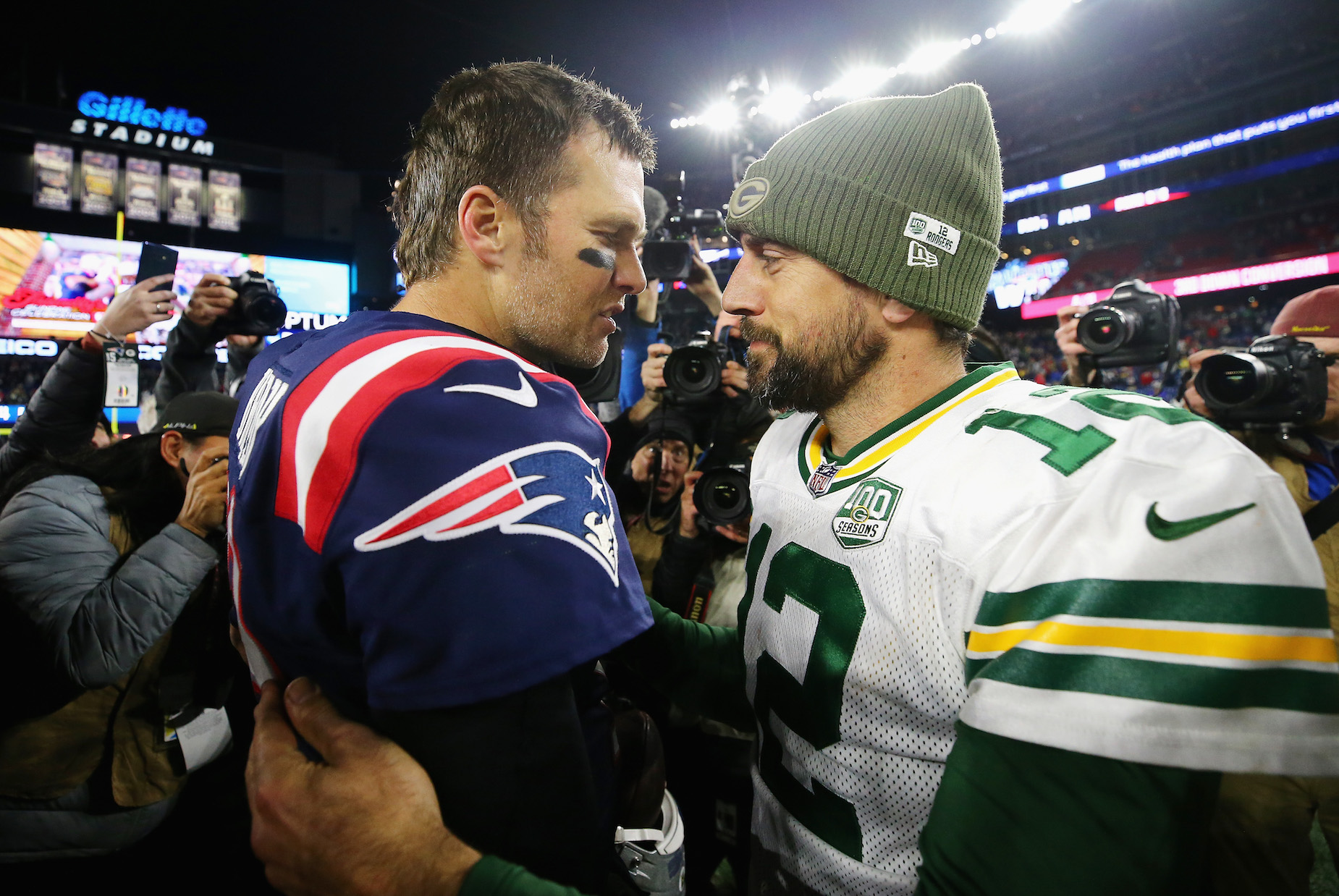 What Is Tom Brady's Net Worth and How Does It Compare To Aaron Rodgers'?
Tom Brady and Aaron Rodgers are two of the greatest quarterbacks in modern NFL history. Which man has the larger net worth, though?
While defense may, in theory, win championships, most modern football teams build around their quarterback. In Week 6 of the 2020 NFL season, two of the league's top signal-callers, Tom Brady and Aaron Rodgers, will go head-to-head.
Due to their impressive football careers, both quarterbacks have built up quite a fortune. With that reality in mind, what exactly is Tom Brady's net worth? How does it compare to Aaron Rodgers' fortune?
Tom Brady's NFL career has been nothing short of a Cinderella story
While Tom Brady isn't exactly a fan favorite outside of New England and Tampa Bay, it's impossible to argue with the quarterback's resume; there's a reason that many fans believe he's football's GOAT. There was a time, however, when Brady had a much less impressive reputation.
In the 2000 NFL draft, Brady joined the New England Patriots as the 199th overall pick; as that sixth-round status would lead you to believe, the quarterback wasn't exactly tapped for greatness.  Robert Kraft once described Brady as a "skinny beanpole, with this pizza under his arm." Drew Bledsoe thought that his new understudy would never become anything more than a backup.
Something different happened, of course. In the fall of 2001, Bledsoe suffered an injury, which opened the door for Tom Brady to step into the starting job. At that moment, NFL history would change forever.
While he's since left the Patriots and joined the Tampa Bay Buccaneers, Brady became a legend in New England. He led the franchise to six Super Bowl titles, claimed three NFL MVP awards, and staked a legitimate claim to be considered football's GOAT.
Aaron Rodgers also proved his doubters wrong to become an NFL star
Tom Brady isn't the only quarterback who overcame doubters to become a star, though. While it might seem hard to believe today, Aaron Rodgers wasn't always considered a top-tier player.
Coming out of high school, Rodgers couldn't land a big-time college scholarship; most programs felt he was too small to survive under center. The quarterback briefly considered quitting football, but couldn't give up just yet. Instead, he headed to Butte Community College, hoping to prove his mettle.
In junior college, Rodgers did just that and impressed the University of California coaching staff. After one season at Butte, the quarterback transferred; he became a star with the Golden Bears before entering into the 2005 NFL draft. His odyssey, however, wasn't over yet.
On draft night, Rodgers sat in the green room for what seemed like an eternity before joining the Green Bay Packers. He then had to wait three seasons before taking over from Brett Favre.
Once he claimed the starting job, though, Aaron Rodgers was worth the wait. The quarterback is now in his 16th year with the Packers and seems to have turned back the clock; he's also thrown for almost 50,000 yards, won a Super Bowl title, and claimed an NFL MVP crown during his time in Green Bay.
How does Tom Brady's net worth compare to Aaron Rodger's fortune?
During their respective times on the gridiron, both Tom Brady and Aaron Rodgers have built up impressive resumes; that reality has also helped both quarterbacks build up impressive net worths.
By the end of his current contract with the Buccaneers, Brady will have earned $285 million in raw salary; that number could have been even larger if he didn't take hometown discounts to help the Patriots stay competitive. That earning power, combined with his TB12 brand and other endorsements, has helped the quarterback build a net worth of approximately $200 million.
Rodgers, however, comes out on top from a salary perspective; according to Spotrac's numbers, the Packers' QB has earned $240 million to date and will reach $313 million by the end of his contract. His net worth clocks in at roughly $120 million, though, putting him behind Brady in the big picture.
In terms of both on-field accomplishments and overall net worth, Tom Brady comes out on top. Aaron Rodgers, however, can get the last laugh on the field during Week 6.