Brock Lesnar Almost Killed Himself With an Ill-Advised Move at Wrestlemania
It's not WrestleMania if Vince McMahon, the promoter of the WWE, doesn't send the crowd home in awe of several I-can't-believe-that-happened moments. The fans in attendance at Safeco Field in Seattle and watching on pay-per-view one night in 2003 got everything they could ask from Stone Cold Steve Austin and Hulk Hogan. What they got from Brock Lesnar was an ill-advised attempt at a stunt that nearly killed him.
Lesnar's attempt at a shooting star press deep into a highly hyped match with Kurt Angle came close to becoming a tragedy that would have forever changed the way fans looked at the scripted world of pro wrestling.
Brock Lesnar and Kurt Angle staged an epic WrestleMania match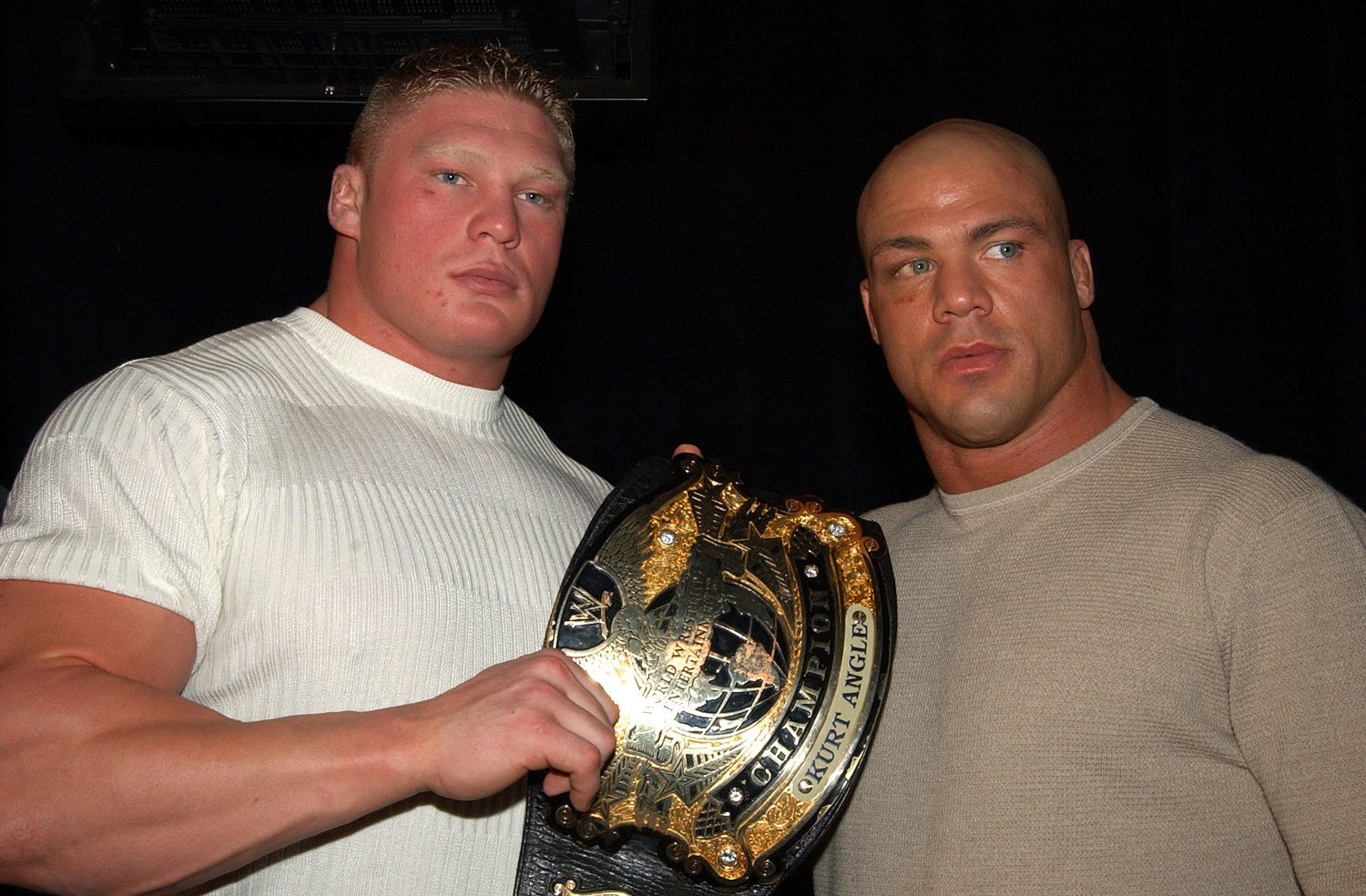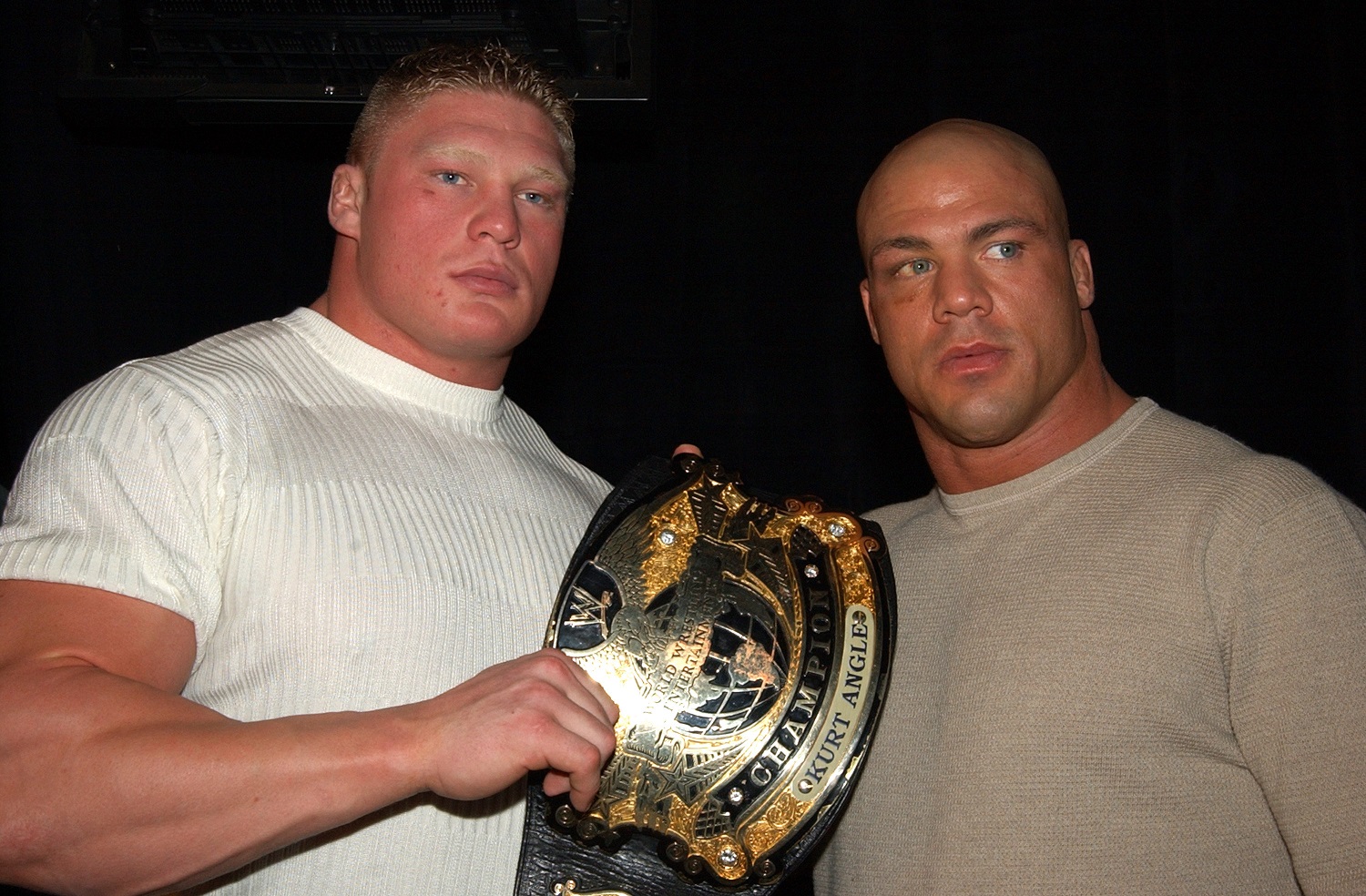 Brock Lesnar in UFC matches is one thing; he was 5-3 in a five-year career in the octagon, even holding the heavyweight championship for almost two years following a TKO of Randy Couture. But Brock Lesnar in the WWE was a different matter because just about everything that happens in the squared circle is pre-ordained to carry out storylines dreamed up by the Vince McMahon wrestling empire.
On March 30, 2003, WWE fans in Seattle were treated to an entertaining Wrestlemania 19 card in which Dwayne "The Rock" Johnson sent Stone Cold Steve Austin into retirement, and Triple H, Chris Jericho, Hulk Hogan, and Shawn Michaels also all performed.
The match that was supposed to deliver the final "wow factor" for 54,000 fans watching in person and millions more viewing on PPV was the culmination of the Smackdown rivalry between Brock Lesnar and Kurt Angle.
Lesnar and Angle delivered the goods in a quality bout, with Lesnar scoring a pin to triumph. It was astonishing that he was able to do so after nearly breaking his neck moments earlier while trying to pull off an ill-advised shooting star press.
Brock Lesnar, Kurt Angle built up to the WWE's WrestleMania 19
Some of the best stories don't get told until long after an event transpires. WWE fans have talked for years about Brock Lesnar vs. Kurt Angle at Wrestlemania 19, but it wasn't until recently that Angle filled in some key details during his new podcast, The Kurt Angle Show.
Lesnar vs. Angle had become a winning storyline for the WWE. Angle was a gold-medalist wrestler at the 1996 Atlanta Olympics. Lesnar was an NCAA wrestling champion and was athletic enough to take a crack at the NFL shortly after his epic win over Angle in Seattle.
The pair had been on a collision course in the ring for months, and the storyline brought them together at an Armageddon show in which Angle won the WWE title from Big Show with an assist by Lesnar, who had a score to settle with the then-champion. But Angle soon revealed that he had partnered with Lesnar's estranged former manager, triggering an ambush by Lesnar that sparked their feud.
Promoter Vince McMahon kept Lesnar and Angle apart in early 2003. Then Lesnar won a televised steel-cage match over manager Paul Heyman that earned him the right at a title shot vs. Angle in mid-March. Angle won, thanks to some chicanery in which his brother subbed for him early in the match.
That set the stage for their WrestleMania appearance.
'When he landed, I thought he was dead'
Outcomes of almost all WWE matches follow a script, but Kurt Angle vs. Brock Lesnar really had to be done that way. Angle had a neck injury that was going to require surgery, so their WrestleMania clash necessitated Lesnar earning the championship.
In his podcast debut, Kurt Angle said promoter Vince McMahon was agreeable to the two stars not going all out in their headliner match.
"I told Vince we were going to take it easy," Angle said. "But when you go out there, the fire, the excitement, adrenaline pumping — you want to do your very best and put on the best performance you can. … We take pride in that."
The two put on a show through about 15 minutes and set up the big finish. With Angle flat on his back near the middle of the ring, Lesnar climbed a turnbuckle and was going to hit a shooting star on his prone opponent. (Skip to the 20:00 mark in the video above.)
Either uncertain about the move or too tired to fully execute it, Lesnar hesitated slightly in coming off the top rope and landed on his neck, just short of Angle.
"When he landed, I thought he was dead. I thought he broke his neck, I thought he was dead," Angle admitted.
Lesnar was dazed but just coherent enough to follow Angle's instruction to kick out of his opponent's attempted pin. Angle feigned exhaustion, Lesnar rolled over just enough to lay a hand across his chest, and the referee called it a pin.
Astonishingly, Brock Lesnar left under his own power
The only thing that saved Brock Lesnar from catastrophic injury at WrestleMania 19 was his incredible physique. At 6-foot-3 and more than 275 pounds, Lesnar was built like a refrigerator after endless hours in the gym. His neck muscles and upper body were strong enough to avoid snapping his neck during the ill-fated attempt to finish off Kurt Angle.
Amazingly, Lesnar left the ring under his own power and walked back to the dressing room. Angle said the WWE had an ambulance waiting but that Lesnar was refusing to go to the hospital.
"I had to talk him into getting in the ambulance, and eventually he did," Angle said.
The fact that Lesnar did relent to being checked out in the emergency room was a relief to Angle since it was his idea to wrap up the match with the shooting star move.
"It was really scary," Angle said. "Those are the chances you take when you do stuff like that. I feel badly because it was my idea. Brock had no plans of doing it, and I talked him into it. I feel bad about it."
Like Sportscasting on Facebook. Follow us on Twitter @sportscasting19.